Mold Remediation
Whether your mold remediation needs are large or small, you can rest assured WP Cleaning Solutions will provide a detailed quality resolution so you can get back to life and have peace of mind. WP Cleaning Solutions, Inc follows the Carolina Protocol for mold removal and mold remediation. The Carolina Protocol calls for the use of hydrogen peroxide and HEPA vacuuming as the remediation tools and it is the most effective, safest method to remove mold.
REMEDIATION PROCESS
1. A complete and detailed inspection of the contaminated site is performed.
2. An Indoor Environmental Professional (IEP) is consulted if appropriate.
3. A work protocol is written by either an IEP or the remediation contractor.
4. The building of proper containment for the work site is completed, and correct negative air pressure is established.
5. Based on the protocol, demolition and/or removal of what material can and should be removed is performed.
6. The remaining structure (framing lumber, plywood, oriented strand board, etc.) is to be cleaned using hydrogen peroxide.
a. All surfaces are HEPA (high-efficiency particulate air) vacuumed.
b. All materials should be dried, if needed, to below 16 percent moisture content.
c. All affected surfaces are sprayed with hydrogen peroxide until they are visibly wet.
d. The hydrogen peroxide is allowed contact time according to the manufacturer's label instructions.
e. All the surfaces are again HEPA vacuumed.
7. An EPA-registered biocide should be applied, following label directions, to ensure remaining microbes are destroyed.
8. All materials should have been dried to a proper dry standard, which must be below 16 percent moisture content, double-checking to ensure all materials are dry.
9. An inspection is performed by the mold remediation contractor. This inspection may include the use of a particle counter or other sampling tools or techniques.
10. The use of an IEP for clearance testing, if appropriate.
11. Consideration should be given to applying some form of surface protection, which will inhibit future microbial growth.
12. Reconstruction is performed, when necessary, in accordance with local building codes and ordinances.
You can learn more about the Carolina Protocol Process by clicking here.
---
The Removing Agents
---
REMEDIA 1 Hill Manufacturing Company, Inc
REMEDIA I contains the latest in surfactant technology that allow its potent cleaners to work through the surface of wood and other porous surfaces. REMEDIA I powers far beneath the surface to force out soil that other products cannot reach.
REMEDIA I produces an intense foaming action when it comes in contact with proteins, mold and other organic stains. Soils and organic stains are then forced to the surface where they can be vacuumed away. NO SCRUBBING, RUBBING, SANDING, OR SCRAPING is needed. After the cleaning job is completed there is no bad odor, just a clean fresh fragrance.
• Based on the latest Hydrogen Peroxide Technology
• Attacks organic stains and eliminates odor
• Reveals even hidden mold spots for cleaning and remediation
• Biodegradable – Breaks down to water and oxygen
• Fully Green formulation
• Penetrates deep into wood and brightens its appearance
---
Benefect Botanical Disenfectant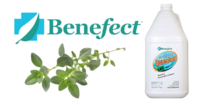 Benefect Botanical Disinfectant:
Kills Over 99.99% of Germs
Virucidal (HIV-1) • Bactericidal (Including MRSA)
Fungicidal, Tuberculocidal
Made From Plant Extracts
Pleasant Aromatherapeutic Vapors
No Synthetic Fragrances, Dyes or Bleach
No Cautions/Warnings on The Label or MSDS Sheets
No Rinse or Wipe Required
No Mixing Required
Part Of Our Botanical Cleaning & Disinfection Solution
As a contractor or homeowner you know that Benefect has been reviewed for safety, efficacy & environmental impact by the Environmental Protection Agency (EPA) and therefore you can trust what the label says. Naturally, Benefect's botanical ingredients give it some distinct advantages.
Contact us today with any questions or concerns, or to schedule an appointment.
---